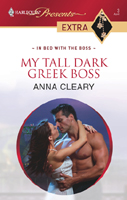 Samos Stilakos, successful businessman is bored with his life and career. He has a new proposition from a bank in serious need of his business savvy. Taking the reins of the sinking bank and turning it into a success is just the type of project he would have enjoyed at one point in his life.
Not anymore.
He's fed up. After he's invited to an employee party thrown by the bank to convince Sam of why he should save this company, he knows without a shadow of a doubt that nothing could make him take this offer.
Until he stumbles across and ethereal looking woman in a dark balcony.
Ellie O'Dea isn't the type of woman to do crazy things, but the combination of the evening, the gorgeous Greek man, and the mask keeping her face hidden, had Ellie acting completely out of character. When Sam invites her up to his hotel room she accepts. And when he propositions her, she also accepts. With the condition that she's allowed to keep her face hidden.
Ellie may not be acting like herself, but she still has enough sense to make sure she doesn't expose herself to her potential future boss.
Four months later, after Sam and Ellie's passionate night, Ellie is working as Sam's personal assistant. She's appalled by the fact that he doesn't seem to recognize her, even though she did dye her hair, she never did take off her mask that night, and she did tell him if he ever recognized her to pretend like he didn't...
But still...how could he not recognize her, right? ;-)
Well, what Ellie doesn't know (yet) is that Sam did recognize her, and he's determined to make her his again. After all, he
is
a very successful businessman. He's used to always getting what he wants. Why else would he have bought the bank?
I started reading this book around 5 a.m. I needed to read a little bit before going to sleep (I'm a night person who works nights, hence the 5 a.m. bedtime). I had planned to read a chapter, maybe two depending on the length. I ended up staying up all morning. I didn't put the book down until I finished reading it in its entirety. It was a great story, with great characters. I love how Sam and Ellie butt heads. They're both hardheaded individuals, both used to doing things their way. It's a true testament of their feelings for one another when one would bend for the other. Of course things always ended up going even worse when someone would give in. They would both assume things instead of just asking the other. And you know what happens when you assume:
You make an ASS out of U and ME.
When I finally finished reading this book, I was sad. I never wanted it to end! And as I read the last few chapters- and wiped the tears from my face -I kept thinking, 'I hope someday I write as beautiful and moving as Anna Cleary'.
Most definitely going on my keeper shelf!