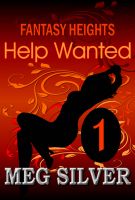 This is book 1 in the Fantasy Heights series.
A thirst for adventure leads one young woman to Fantasy Heights. This resort, specializing in fantasy fulfillment, will put her to the test. Does she have what it takes to explore sexual pleasure to its fullest? Does she have the courage to pursue her own fantasies?
***
I know I've been reading a lot of erotica lately, but I'm a sucker for free books and if the blurb catches my attention, I'm going to get it.
Anyway, this story has piqued my interest, which means I'm going to have to read the next part to see what happens with Amanda. She is going through something right now, I won't say what, but it lands her in this special resort. I want to say that part of her is soul searching, but at the same time, the events that led her to Fantasy Heights are still too recent, so she doesn't really think about it. So how can you soul effectively soul search if you suppress certain emotions? Will Amanda stay at Fantasy Heights? Or will she "find herself" and realize this isn't for her? That is one of the themes for this series, and the owner of Fantasy Heights, Stephanie has brought it up already. As of right now, it looks like Amanda is there to stay; but who knows what will happen later on down the road.
I do want to say that I hope we get to know more about Thomas. He works at the resort and Amanda has been working under him for most of her training period. There is a story there. Actually multiple stories. Thomas himself, and how he ended up there, is a story. At least for me, I'm personally intrigued. Especially now that Stephanie has voiced her concerns for him and Amanda has realized that he seems jaded. I want to know what that is about. There's also something going there between Thomas and Amanda, and I don't think it's just work. I want to know what it is and where it's headed.
Help Wanted is a very entertaining story, the sex scenes are interesting enough. Nothing new, but I do like the way the author handles them.
Amazon
is currently offering this title for free, so feel free to
check it out
.